Why do I need an Energy Performance Certificate?
---
UK law requires an Energy Performance Certificate (EPC) to be produced every time a new house or building is first constructed or an existing house is marketed for sale or rent. This requirement stems from the EU Energy Performance of Buildings Directive (EPBD) and has been a compulsory requirement since 2009. EPC's are applicable to domestic, non-domestic properties and also public buildings.
An EPC is valid for 10 years and can only be produced by a licensed Energy Assessor who is a member of a Government Accreditation Scheme.
The legal duty to provide an EPC falls on either the seller, in the case of a building being sold, or the landlord, in the case of a building being rented.
Estate agents cannot start marketing a property until they are satisfied that an EPC is available or has been commissioned.
As soon as the EPC is obtained, the energy rating or the EPC itself must be included with any written particulars by an Estate Agent (i.e. sales brochure).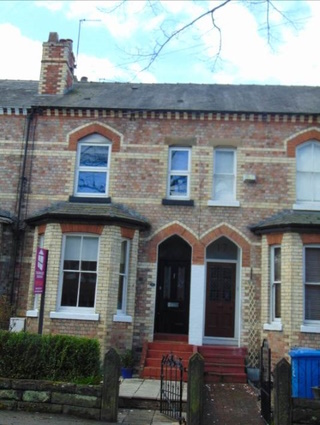 ---
Sample Energy Performance Certificate

---
What information does a Domestic EPC include?
---
The EPC provides information on how to improve the energy efficiency of a property & also how to reduce carbon dioxide emissions (CO2).
An energy efficiency rating on a sliding scale of A – G is provided in a graph format similar to those found on kitchen appliances.  The higher the rating the more energy efficient the property is & the lower the fuel bills are likely to be.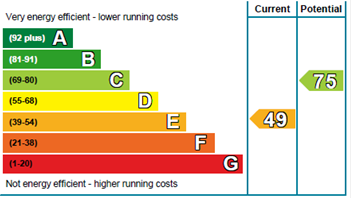 The energy efficiency rating can be used by home owners and occupiers to compare the energy efficiency of different properties in a similar way to comparing the energy performance of fridges or freezers.
The EPC also includes a Recommendation Report which lists the potential improvements that can be made to a property in order to:
Cut fuel bills
Improve energy efficiency
Help cut carbon emissions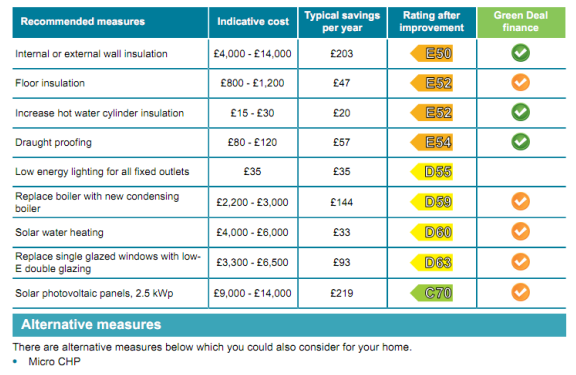 ---
Sample Energy Performance Certificate

---
How is a Domestic EPC produced?
---
The DEA undertakes a non-invasive property inspection to record all necessary information to produce the EPC such as:
Property type
Age of property
Type of wall construction (cavity or solid walls)
Property dimensions (to work out floor areas & heat loss walls)
Main heating system / heating system controls
Secondary heating (additional gas fires/electric heaters)
Hot water system
Insulation levels (cavity wall insulation / loft insulation)
Windows and glazing types (double glazing / single glazing)
Types of lighting (level of low energy lighting present)
 The DEA will also take photographs of the key elements of the property.
The information collected by the DEA is then entered into a computer program which has a calculation model developed by the Government known as Reduced Data Standard Assessment Procedure - RDSAP. When all the data is checked for accuracy by the DEA the software produces the EPC.
The calculation does not look at domestic appliances like TV's, computers, cookers, but rather the performance of the building itself in areas such as heating, lighting and hot water costs. In other words, it provides an energy efficiency rating for the property itself rather than an occupancy rating.
Who regulates DEA's?
---
 Accreditation Schemes make sure that DEA's have the right skills and are able to carry out the survey to agreed standards. DEA's are audited by Accreditation Schemes in order to check the quality & accuracy of their work.
NM Home Surveys has been a member of Stroma Certification since 2009 when EPC's were first introduced. As a Government approved accreditation body, Stroma Certification provide technical support and updates in addition to auditing to ensure we maintain the quality standards required and our EPC's are compliant.
More Information & Useful Links
---