Why do I need a Survey?
---

According to research conducted by ComRes on behalf of the RICS (Royal Institution of Chartered Surveyors) 1 in 5 homebuyers who did not have a property survey done before a house purchase found faults and defects after moving in. The research involving more than 1,000 buyers found that remedial work to rectify unplanned building works cost £5,750 on average & that 17% of new owners ended up paying more than £12,000 to make their homes habitable after rectifying major unplanned works.
This could be easily avoided prior to sale by having a professional property survey which will identify issues relating to the condition of the property such as structural defects or potential safety hazards and if there are problems identified it can be used to put you in a powerful bargaining position for negotiating on the asking price set by the seller of the property.
The reason the majority of homebuyers do not commission a property survey is that they mistakenly think the lenders Mortgage Valuation is a property inspection on the condition of the house – WHICH IT IS NOT. The sole purpose of a mortgage valuation survey is to satisfy the lender that your desired property is worth the price you're paying – or at least the amount it is lending you – before they approve your mortgage. So a Mortgage Valuation survey is just that – it won't point out major repairs or structural problems that you will have to pay to fix….. OUT OF YOUR OWN POCKET!
Buying a home is probably the most expensive purchase you will ever make in your lifetime. For this reason, it really does make sense to find out about the actual condition of a property before buying.
Investing in a Home Survey, therefore, will help you to understand the pros and cons of your potential purchase and most importantly could save you thousands of pounds later down the line.
Take a look at what our clients have said after having a property survey carried out by NM Home Surveys.
Testimonials Property Surveys EPCS
Sample Home Condition Surveys
Sample Report 1 Sample Report 2
What level of Home Survey do I need?
---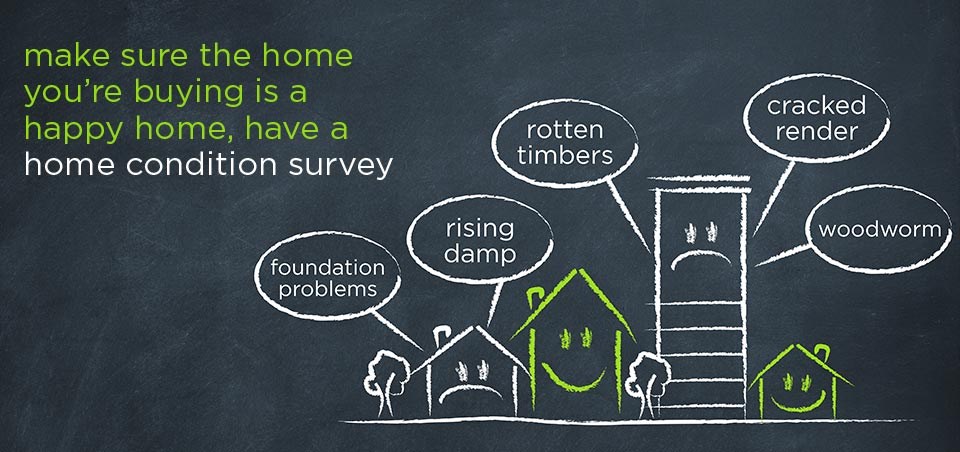 Home Buyer Survey (HBS)
A Home Buyer Survey is a mid-level survey (Level 2) usually suitable for conventional properties of standard construction and in reasonable overall condition.
It includes a physical inspection of the property and a concise survey report giving an overview of the overall condition of the property in an easy-to-follow report format which is written in plain English using jargon-free terminology.
The HBS provides information about the construction & condition of the main external & internal elements of the property using simple 1-2-3 colour coded Condition Ratings so you can easily see any issues which need urgent attention or are likely to present future problems.
Essentially, the Home Buyer Survey can provide you with reliable & accurate information to re-negotiate on the asking price or persuade the seller to attend to the issues identified.

Building Survey (BS)
This is the most comprehensive and in-depth survey (Level 3) and is suitable for all residential properties but is mainly aimed at larger or older properties or if you're planning major works. It's particularly suitable for homes that might need repairs and refurbishment and provides detailed advice on defects, repairs and improvements needed to rectify the issues highlighted in the report. The report will also outline future maintenance options available.
The Building Survey includes all the benefits of a Home Buyer Survey, but the report includes more comprehensive descriptions of construction and defects, explanations of how to go about rectifying defects and the consequences of not carrying out repairs in a timely manner. It will also give you an understanding of potential defects that could be present.

NM Home surveys – Our unique selling points
Whichever survey you choose to go ahead with, you will receive the following as part of our standard service:
We will speak to you prior to the survey about any specific concerns you may have about the property.
The report is written in plain English with no technical jargon.
The report includes plenty of photos to help you fully understand the technical content in the report
You will receive a post survey follow-up call to talk you through the main issues of concern, if any.
We will also advise you on the 'next steps' of the process if further specialist investigations are needed.
An independent, impartial opinion based on local knowledge & expertise.
Please be aware that other companies may not offer all the above additional report content, professional advice & local expertise.
I am also paying for a Mortgage Valuation Survey…. isn't that sufficient?
---
A Mortgage Valuation Survey IS NOT the same level & detail as a Home Survey.
The sole purpose of a mortgage valuation is to satisfy the lender (i.e. Bank/Building Society) that the property you are about to purchase is worth the price you are paying for it, or at least the amount of money it is lending you before they approve your mortgage.
The Mortgage Valuation survey is therefore solely for the benefit of the lender. Importantly it WILL NOT contain all the information you need such as any necessary structural repair costs in order to make an informed decision about your house purchase.
Both Which? and the Council of Mortgage Lenders (CML) advise that all buyers should commission an independent survey and report on the condition of a property before buying.
Which? found that for those people who did not get a survey, on average one in four had to spend over £2,500 to put serious defects right which would have been identified in a Home Survey report. For one in ten people it was over £10,000.
Importantly, those that did obtain an independent survey report were able to negotiate a reduction in the asking price of the property that averaged £2,000!
For peace of mind & to potentially save you costly repair bills after moving in, it really does makes sense to have a Home Survey carried out.
Take a look at what our clients have said after having a property survey carried out by NM Home Surveys.
Testimonials Property Surveys EPCS
Sample Home Condition Surveys
Sample Report 1 Sample Report 2
What sort of information is in a Home Survey?
---
A Home Survey (L2 or L3) will tell you all you need to know about the property in a concise & easy to understand report, free of technical jargon.
The Home Survey will:
Identify any major problems with the home you are buying following a non-invasive survey
Highlight any hidden areas of possible concern that need further investigation
Give you a simple 1,2,3 condition rating of all key elements of the property
Include photographs to help you understand the issues raised in the report
The Home Survey will cover:
The building's general condition and associated property defects/faults
Any structural movement
Damp, rot, and woodworm
Heating, drains, and electrical services
Alterations and additions
Environmental issues
Legal Issues & Risks to the property & people
Re-instatement costs - for buildings' insurance purposes
What areas of the property are covered in the Home Survey?
---
External elements include:
Chimneys / Roof Coverings / Rainwater Pipes & Gutters
Main Walls
Windows / Doors
Outside Decoration
Conservatories / Porches
Internal elements include:
Roof structure
Ceilings / Internal Walls & Partitions
Floors / Fireplaces & Chimney Breasts
Built-in fittings (kitchen units / wardrobes)
Bathroom fittings
Internal woodwork (doors / staircase)
A visual inspection of the building services elements/installations include:
Electrical system
Gas supply
Heating & Hot Water system
Cold water mains supply
Drainage
The Home Survey also includes a visual inspection of the general Grounds including:
Garages / Permanent Outbuildings
Paved Areas
Boundary / Retaining walls
How are defects listed in the Home Survey report?
---
A condition rating (CR) is used to indicate the presence of any defects in a property and also the severity of these defects.
Each element is rated with a simple 1, 2, 3 condition score and is presented in a table format for easy reference.
During an inspection, as each aspect of the property is considered, the surveyor will apply a condition rating of 1, 2 or 3, giving you an insight into any future work you might need to carry out.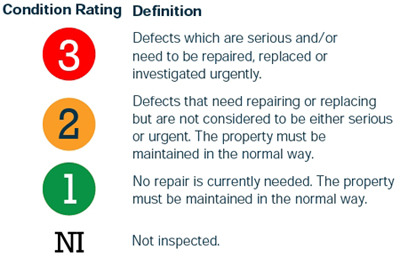 The definition of each Condition Rating are further explained below:
Condition Rating 1
No repair is currently needed. Normal maintenance must be carried out.
Condition Rating 2
Repairs or replacements are needed but the surveyor does not consider these to be serious or urgent.
Condition Rating 3
Defects are present which are either serious and/or in urgent need of repair or replacement, or the surveyor feels that further investigation is required (e.g. if they suspect the presence of asbestos). When a condition rating 3 is applied, you are advised to obtain quotes prior to the exchange of contracts.
More Information & Useful Links
---